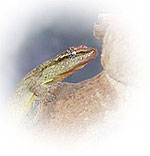 Name:
Latin: Lepidodactylus lugubris
Englisch: Mourning Gecko / Scaly-Fingered Gecko / Oceanian Palm Gecko
German: Schuppenfingergecko / Jungferngecko

Range:
Widely known from the tropical and subtropidal regions almost all around the world.

Diet:
Drosophila, small crickets, sweet fruit and baby food on fruit basis.
Dust food insects with a mixture of vitamin and mineral supplement! Additionally offer the geckos fine calcium grit mix for pigeons or mineral supplement in a dish for to enable the geckos to take it whenever they want.

Temperature:
Day around 28°C (local), at night cooler. Some lineages prefer lower temperatures. (heating: heating pad or heat cable)

Light:
No special UV-lighting necessary. Fluorescent tubes or bulb.

Humidity:
Spray water 1 - 2 x per day. A dish with some water.


Terrarium (min. sizes, L x B x H):
30 x 30 x 30 cm
for a single gecko
(breeders info)
25 x 35 x 35 cm
for 1 - 2 adult geckos
(breeders info)
60 x 40 x 40 cm
for a several geckos
(Nietzke,1998)
Furnishing:
Branches und cork bark tubes or pieces of cork bark leaned on the terrarium walls for climbing and hiding. Sandy soil or cocos substrate.

Planting:
Ficus pumila, Fittonia verschaffeltii, Ficus repens, Ficus sagittata, Tillandsia, smaller Vriesea-species or spider plants (Chlorophytum).

Other Occupants
There are reports about successful keeping together with poison arrow frogs.

Breeding:
In Lepidodactylus lugubris a single specimen only is needed for producing young. No Incubator is necessary. The young hatch in the terrarium and may be kept together with the adult geckos.

Longevity under terrarium conditions:
Approx. 5 years